(Hello TV)The group of visitors from China paid a visit of inspection to Newtec Co.,Ltd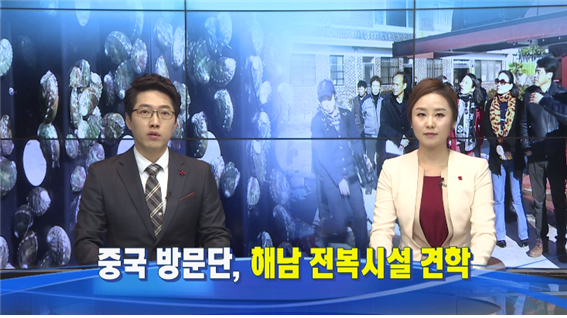 The group of visitors from China paid a visit of inspection to Haenam, especially its abalone aquaculture infrastructure and machine equipment. The visitors checked the up to date technology of abalone aquaculture and went back to China. Reporter Jong-ho Park reports.
This is Ok-cheon agricultural industrial complex in Haenam-gun. They look very busy as operating machines from early morning. 14 visitors including vice head of county. vice head of bureau of Oceans and Fisheries and entrepreneurs visited Haenam from China in order to benchmark Korea's advanced abalone aquaculture technologies and make contracts of automatic system and etc.
[Interview : vice head of bureau, Zhang Sheng Zhen / Oceans and Fisheries of Chinese county]
"We are doing manual labor for abalone aquaculture mostly. We came here to watch mechanized technologies and learned a lot. We would like to adopt these technologies in the future."
The decisive reason they chose Haenam was the company which provides abalone feeding machine is located in Haenam. It covers more than 70% of control machines in Jeonnam from sales to A/S. Haenam is planning to find ways to interact with China.
[Interview : Manager, Sang-il Yoon / Division of Oceans and Fisheries in Haenam-gun]
"China's infrastructure is labor-intensive. After we review the abalone aquaculture system, we will consider we can export our machines to China and…"
After the visitor go back to China, they will interact with Haenam actively and discuss the way for cooperation of abalone aquaculture. Especially, the visitors showed their interest on the abalone aquaculture machine a lot, and we are expecting the farm master and materials for cultivation facilities exports.
This is reporter, Jong-ho Park, Hello TV News.
Camera : Hee-gun, Kim